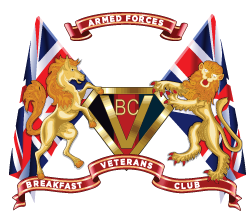 If you wish to use the logo then contact us
You DO NOT need to change your logo or buy any other merchandise!!
=================================
PARTS OF THIS WEBSITE
ARE STILL UNDER CONSTRUCTION!!
Breakfast Clubs are
FREE
to attend…. And will remain free!
Breakfast Clubs exist to help veterans, and often currently serving Armed Forces personnel, by meeting face to face, in a relaxed, safe, social environment.
ALL information entered on this website is secure,
we encrypt all information you enter and DO NOT share with ANY third party organisation.
REGISTER YOUR BREAKFAST CLUB SECURELY - VISIT WEBSITE FORM