After a very lengthy and stressful legal battle with Mr. Dereck Hardman of AFVBC.NET, the Intellectual Property Office (IPO) finally awarded the original AFVBC logo to Dave Williamson. (https://trademarks.ipo.gov.uk/ipo-tmcase/page/Results/1/UK00003177505)

Mr Hardman signed over ownership of the logo to Dave Williamson in 2017 after agreeing for Dave Williamson to pay (from his own funds) a third party the monies he was owed. Mr Hardman then changed his mind and went on to launch a very public and despicable vendetta against Dave to regain ownership of the logo.

After confirmation from Humberside Police in August 2018 that no fraud or other crime had been committed Humberside Police closed the case. Yesterday, the IPO saw through Mr. Hardman's lies and announced that Dave Williamson had not gained the logo by deception, as claimed by Mr. Hardman, and awarded ownership of the logo to Dave Williamson, again.

Mr. Hardman is due in court later this year after Dave Williamson filed a small claims action against him and his partner, for knowingly making false statements to the IPO and any other organisation/person(s) who would listen.

Mr Hardman has also failed to file AFVBC.NET's correct accounts (2018-2019) and also failed to complete his company's confirmation statement on time. All info is available via the Companies House website, he continues to deceive the members of the clubs under his network.

Companies House - https://beta.companieshouse.gov.uk/company/10251007

Mr. Hardman's most recent claim was that .net was asked to sign the Armed Forces Covenant and that they were awarded a bronze award by them.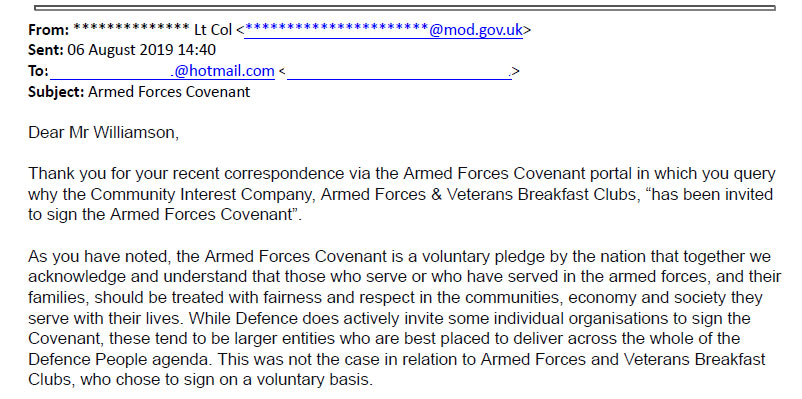 According to the attached screenshot 'he' requested to sign up and .net holds no such award. This is a case of misrepresentation in an attempt to mislead vulnerable veterans who Mr Hardman claims he is trying to help. People can check who holds the ERS Bronze award by visiting the Defence Employer Recognition Scheme website.





Many clubs are blissfully ignorant of Mr Hardman's behavior and deception, and some, despite being warned about him, continue to massage his narcissistic ego.

Up until September last year,. certain national admins were fierce supporters of Mr. Hardman, ignoring the rumors that they were hearing. However, as part of his CIC admin team, the inner circle, their eyes were opened and they began questioning things. Certain members of Mr Hardman's admin team walked away after questionable dealings were discovered.

Since the admins walked away from Mr. Hardman's team, Mr. Hardman threw their clubs out of the network, telling everyone that they had left the network.

Some of the admins had spent years of their lives wasted, helping and supporting a man they believed in.

The clubs in his network should not be affected by his recklessness but they fly his flag and support him in their ignorance. Time will tell what the fallout will be as things catch up with Mr Hardman and his lies.

At least now clubs have an alternative and go independent registering on afvbc.com's website where they are able to run their clubs with no interference and internal politics being forced on them and also then be able to use the widely recognisable AFVBC Logo.

During the lengthy IPO battle for the logo Mr Hardman was informing people if they used the disputed logo then they would be taken to court. This is yet more lies of Mr..whom Hardman to get Veterans to part with their money and buy into his lies and deceit to cover his own financial mismanagement which failed to protect veterans' funds.

Members will be able to purchase merchandise with the Original AFVBC Logo from the AFVBC website shop, since the shop is currently being tested and some of the prices are incorrect.